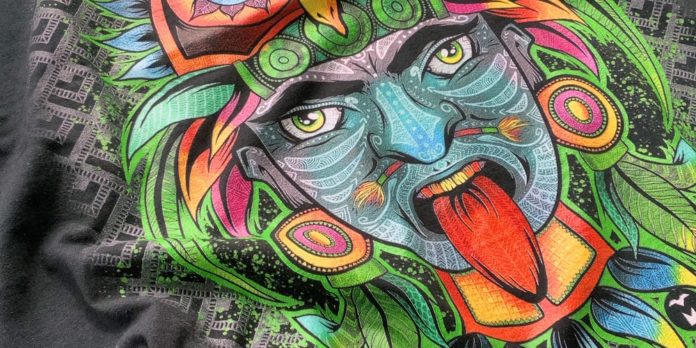 1 – Maximising Impact: Combining DTG and Other Garment Decorations
Welcome back to Ask DTGMerch! In this article, we're exploring the possibilities of mixed decoration articles and how DTG printing can be used in combination with other garment decoration techniques to create eye-catching designs. Not only is it a great way to stand out from the competition, but it can also be cost effective. By combining DTG printing with other techniques, you can achieve an impressive and unique look without breaking the bank. Plus, it's also a great way to add items to your portfolio that will really "wow" your customers.
2- Mix and match
Maximising your creative potential by combining different types of decoration on t-shirts is a great way to stand out from the competition. Combining DTG with rhinestones, inserts and embroidery is not only possible, but has been around for some time. From well-known brands to the most expensive, you have probably seen examples on the street. Using this technique comes with a hefty price tag, so adding items to your portfolio using this technique could be a wise decision. The t-shirt is the most popular item for multimedia decoration with its ability to accommodate multiple decorative materials. With DTG, you can mix and match embroidery, foils, stones, and other materials to create unique designs.
3 – Some extra tips
Just remember to take precautions when printing. Always check the printing distance before printing and provide your customer with the appropriate washing instructions for the t-shirt. With the right preparation, you can create highly detailed designs that will have a lasting impression.
4 – Wanna learn more?
By the way, have a look at our online DTG Printing course. If you'd like to check it out, I'll be happy to leave you the link at the end of this blog post.
If you have any questions or suggestions, feel free to email us at: ask@dtgmerch.com
5 – DTGMerch Online Courses:
Check out this online course that might help you: How to Put Your Art on a t-shirt. In this online course, we will talk about which file formats are suitable for the different t-shirt printing methods.
Also have a look at our DTG printing online course for more info on DTG printing business and t-shirt design.
We hope you found this article to be helpful and informative. 


If you have any questions or feedback, don't hesitate to reach out by emailing us at ask@dtgmerch.com.
Thank you for taking the time to read this, and we wish you all the best!
The DTGMerch Team