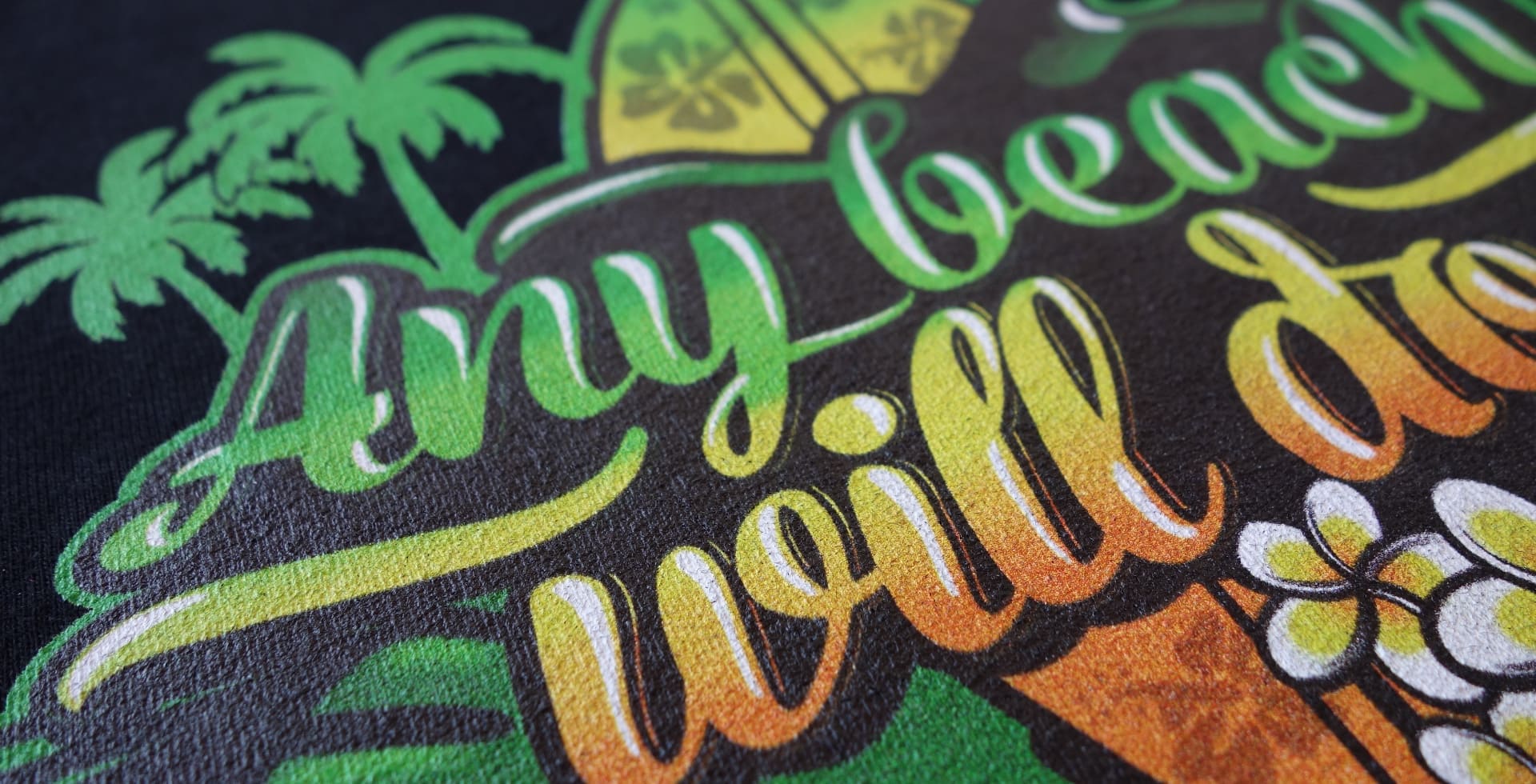 Recently, we ordered a dtg test print from Merch by Amazon. They are a print on demand service which prints on various garments with digital direct to garment printers.
We submitted one of our DTG Merch Studios designs and ordered it on a black T-Shirt. We wanted to check the overall print quality and see what options we have to improve our T-Shirt design.
Here are the positive and the not so positive aspects that we noticed about the print quality of our test T-Shirt.
Positive Impressions about the printed T-Shirt
Extremely fast delivery. We ordered from Merch by Amazon Germany, and the T-Shirt arrived within a few days! We were very impressed because as far as we know, they still print in the USA and ship to Europe.
The printed areas of the design are well covered. No lines from missing nozzles or passes are visible on the print.
No fibers sticking out.
No pretreatment marks around the print, and no visible heat press marks on the T-Shirt.
But there's some room for improvement
In our opinion, the main downfall is that they printed the white underbase and then black ink on top of it again – on a black T-Shirt! This is actually a waste of ink and money! Removing the ink in the black areas and utilizing the black garment color of the T-Shirt would be a much more elegant solution.
And, on top of this, it makes the print very shiny. We tried to take a few pictures to illustrate this effect.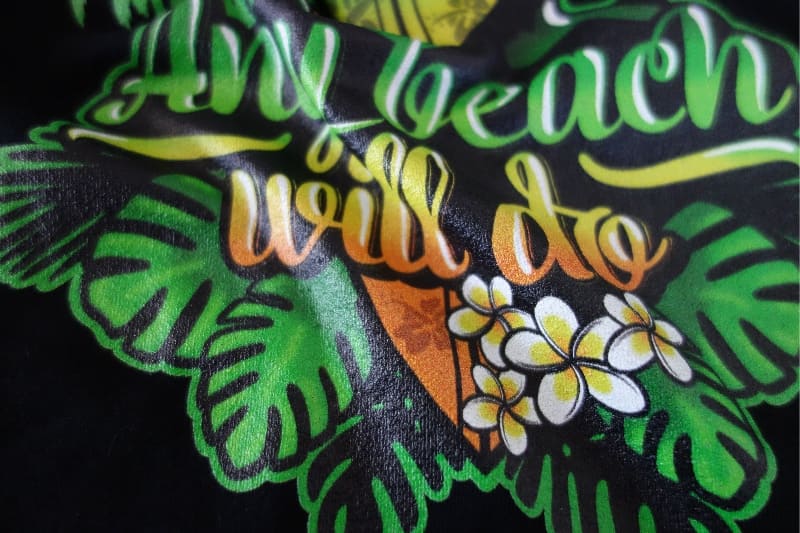 The hand-feel of the print can be improved. There is a lot of ink on that T-Shirt, due to the thick layer of ink.
There are some fuzzy, unsharp areas (seems to be in print direction).
Notice the unsharp black lines inside the flowers!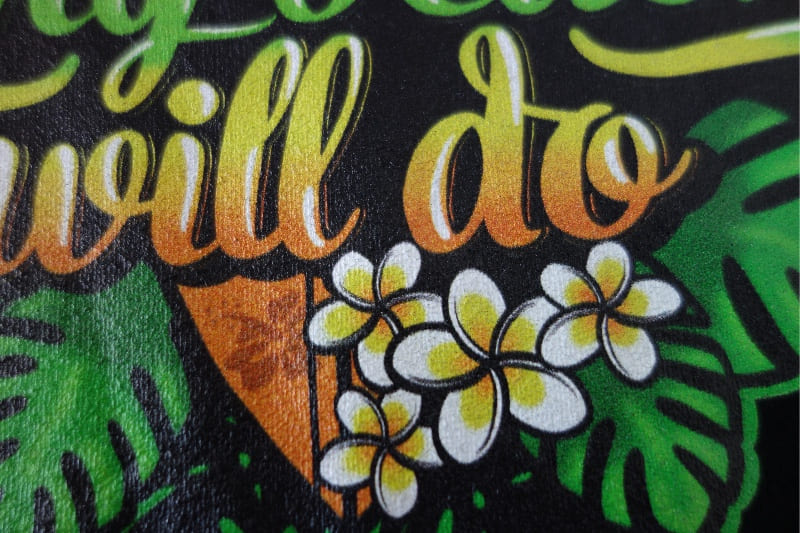 The printed image is much smaller than what we expected. We made a full-size design, and when we (or our customers) order a printed T-Shirt, we kind of expect it to be the large print we see on the preview image.
What can you do to improve this T-Shirt print?
T-Shirt Designers
When designing for a POD (print on demand) website like Merch by Amazon, your options for improvement are very limited. You will get what their printer configuration is set to print, and can't drop them an email asking them to treat your design differently.
However, when designing for black T-Shirts, you can manually remove the black part. When the design is printed, it will avoid that thick layer of ink in that area. This should at least help improve the prints on black. As a positive, you will get a nicer looking print with a better hand-feel and the colors will seem more vibrant (due to the reduced shininess). As a downside, if you want to offer this t-shirt design in all colors, you need to create a minimum of three different versions of the design. Unfortunately, this will take up three of your available slots on Merch by Amazon. As we all know, this can really hurt, especially when you are on the lower tiers.
Our recommendation is to always consider the garment color you want to offer your T-Shirt on during the design process.
There is no way for you as a designer to fix the other print problems, e.g. the blurriness or the size of the actual printed image.
T-Shirt Printers
DTG Businesses
If you can find a way to remove the under base underneath the black color, it will make the prints look much better and save you a lot of money in ink costs.
Basically, you have three options to solve the main problem on this print:
1) Get a RIP-Software that can automatically generate and grade your white underbase (put more white ink in lighter areas and less white ink in darker areas). Also, it's good if it can knock out e.g. the black color on black T-Shirts automatically.
2) If you have a RIP-Software that can do the things in (1), make sure to generate and use the correct printer profiles.
3) If you don't have a RIP-Software with these features available, the only option you have is to do it manually. This is also the only option for T-Shirt designers by themselves (see above for more information).
Our next steps to enhance our T-Shirt design
We are quite happy that we ordered this test print to learn more about print quality. There are a few things we really like about that printed T-Shirt. And now we also know what we have to do to optimize our T-Shirt design.
We are going to write a little tutorial on how to manually remove the black part of the design. Subsequent to this, we will order another test print to check if our improvements had any effect. We will keep you updated! 🙂