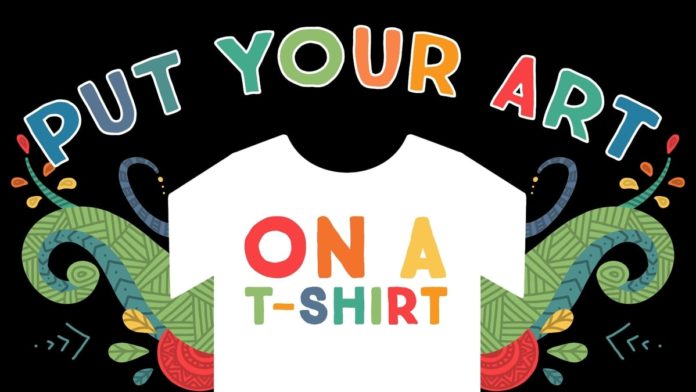 Our new online course is finally online. If you've ever wanted to put your designs on a t-shirt but didn't know how then this is the course for you. We'll clear up common questions and talk about how to figure out which printing process is right for your project and how to set up design files.
Create better T-Shirt designs
On our YouTube channel, we talk a lot about how to create print files for direct-to-garment printing. We also just released our series "How to set up design files for DTG printing" on our YouTube channel, which you can watch here.
But we also get asked about other printing processes on a regular basis. How to know which printing process is right for your project. And how to set up the design so that the result looks as good as possible.
Since this doesn't really fit the theme of our channel, we decided to create an online course "Put your art on a t-shirt" to share our knowledge on this topic.
By the way, even though we are talking about t-shirts for the sake of simplicity, you can use these methods for many other products as well, from hoodies to leggings to mugs.
Get your art on a T-Shirt
Recently, print-on-demand platforms have become increasingly popular. Many people want to print their own custom t-shirts, while others start a new business and use their services. Even though we would argue that the main technique for printing t-shirts used by print-on-demand platforms (Merch by Amazon, Redbubble, Printful, etc.) is direct-to-garment printing, you also have the option to create various other products using other printing methods.
We want to help you find the right printing method for your project and tell you what you need to know to end up with a fantastic product in your hands.
Overview of textile printing methods
In this course, we'll cover six methods for getting your art onto a t-shirt.
* DIY: heat transfer printing that you can do at home.
* Screen printing
* Sublimation
* Direct to garment printing
* Plot printing (flex and flock)
* Embroidery
As always, we've tried to share our best tips and tricks with you.
We briefly explain how each printing process works and go into detail on how to set up your files. We've also listed our pros and cons for each printing method.
Our "Put your art on a T-Shirt" course is available on Udemy and Skillshare. If you are a new customer of Skillshare, you can sign up for a free two-week trial using this link.
Some links on the website may contain affiliate links. In that case, we will earn a small commission, at no extra cost to you. This helps us keep the website running.