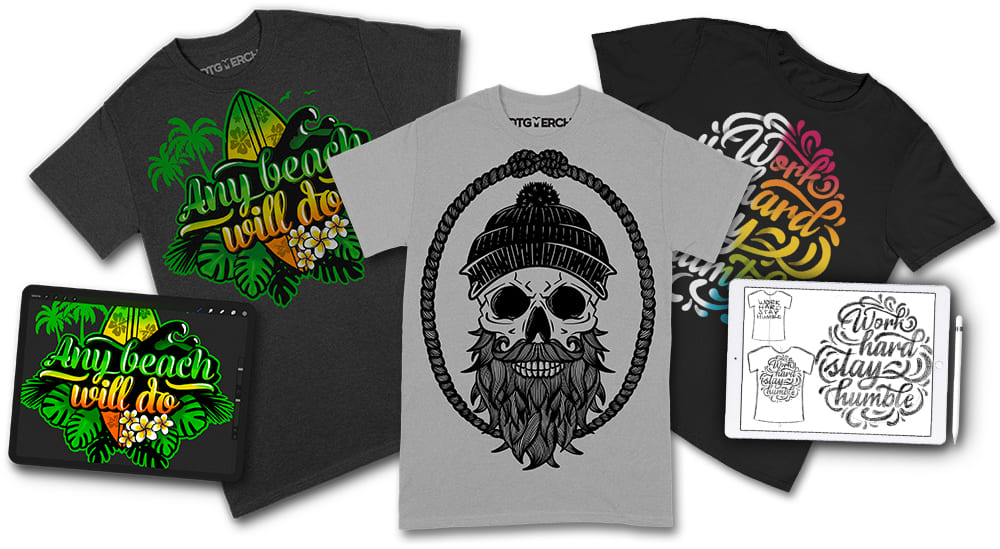 What is DTG Printing?
DTG printing, also known as direct to garment printing, is a way to print on textiles, usually on ready-made garments like T-Shirts.
Similar to your printer at home, you print directly on the T-Shirt. All colors mix automatically with CMYK inks, which means that you can print a lot of designs that are unachievable with other printing methods like screen printing. For example, since you can use an unlimited amount of colors in the same design, you can print photorealistic images and gradients.
But there is another benefit: The real superpower of direct to garment printing is the white ink. With this, you can print a white underbase underneath every design. This gives you the possibility to print on garments of all colors.
Read our free E-Book "The Beginners Guide to DTG Printing"
Did you know that we offer a free Ebook about DTG printing when you subscribe to our newsletter? You can unsubscribe at any time. It's available in four languages (English, Deutsch, Portugues, Espanol).
Yes, I want my free Ebook (Subscribe me to the newsletter)
DTG – Meaning
DTG is short for "Direct to Garment", which is the name of this textile printing technique.
In addition to that, DTG can also be a synonym for Digital Garment Printing or Inkjet Printing. It's basically the same printing technique, with different names.
How does Direct to Garment printing work?
In resume, Dtg is a printing technique used to print designs onto textiles and other garments. It's very popular nowadays as an alternative to screen printing on t-shirts.
Technically speaking, Dtg uses inkjet technology to print whatever you want on the substrates. The easy explanation is, think about the paper printer you have in your office or at home, but modified to print on t-shirts.
What Equipment do I Need For DTG Printing?
A Direct to Garment printer
The central piece of equipment is your direct to garment printer.
Nowadays these printers can be found in three different categories and can fulfill the needs for different outputs:
The smallest version is tabletop printers with one pallet, which are perfectly suited for smaller productions. "Workhorses" are printers with up to three pallets that can keep up with industrial-level production. And last but not least there are hybrids, which are often a combination of screen printing and Direct to garment printing machines.
A Curing Device
Depending on the output of your printer, the curing requirements of the ink, and the available space on your print shop, curing can be done with either a heat press, a tunnel dryer, or a combination of both.
A Pretreatment Applicator
Before printing anything, you should use a primer on your garments. When you only use CMYK inks, this process is optional. But when you want to print with white ink, then you absolutely need to use pretreatment.
There are basically two different ways to apply the pretreatment.
Internal Pretreating Process: The printer automatically applies the pretreatment before the start of the printing process. But since this method is restricted to a few printers only, many of us have to utilize other methods of pretreating our printed T-Shirts.
External Pretreating Process: Everybody else has to pretreat their garments outside of the printer. You can do this either manually, using a simple spray gun is possible to apply the pretreatment on the t-shirt prior to placing the garment on the machine's pallet. Or you can invest in a pretreatment machine who automates this process.  There are several pretreatment machines in the market in various shapes and forms.
Another alternative would be ready-made pretreated t-shirts.
DTG vs. Screen Printing
Even though the printing process of screen printing and direct to garment printing could not be more different, basically the outcome is the same: Both printing methods do the same: They print on T-Shirts.
If you are trying to decide between those two methods, it ultimately boils down to the type of design you want to print. We put together an infographic to illustrate the differences.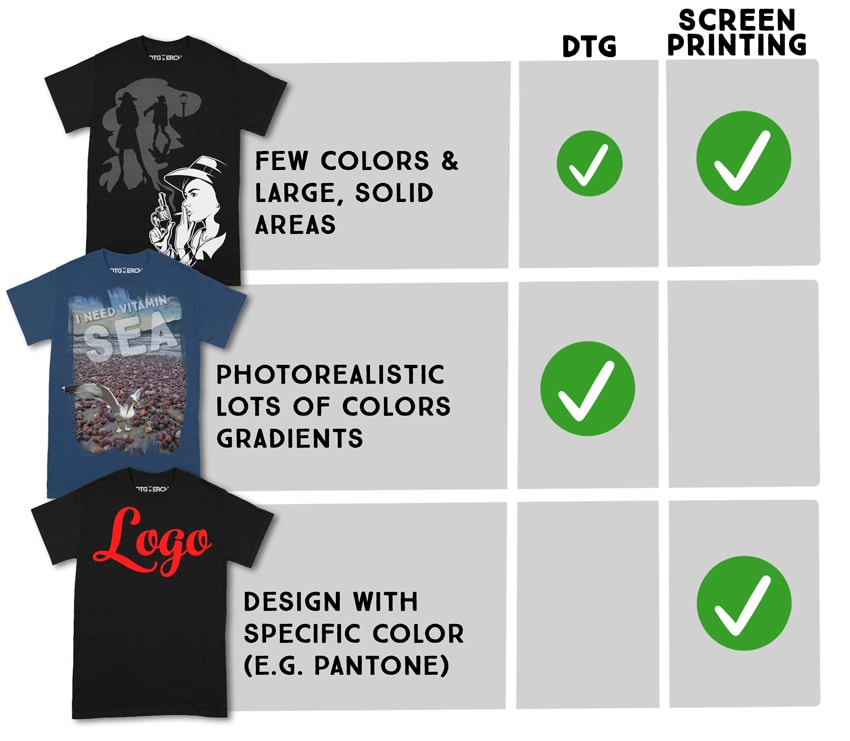 As you can see, when you plan to print simple designs, both printing methods are suitable. If you are wondering why we made the tick a little bit smaller for direct to garment printing, it is easily explained. Sometimes it can be tricky to print large, solid-colored areas.
If you want to print photorealistic designs, Dtg is the way to go.
But if you need to print designs that need to match to specific color values (like Pantone), stick to Screenprinting.
The pros and cons of screen printing
Pros:
Special colors and effects can be used, such as neon or glitter
More cost-effective at large quantities
Can handle lots of different materials
May have higher wash-fastness
Cons:
Requires set-up (creating screens)
Limited amount of colors
Loss of details in the artwork
Can be laborious and "dirty"
The pros and cons of direct to garment (DTG) printing
Pros:
Prints in great detail, so it is ideal for intricate designs, gradients, and photo-realistic images
No Set-Up, ideal for small, customized orders
Can be integrated into an automated workflow
Cons:
Operators need knowledge (steep learning curve)
Requires special environmental conditions to work well
Limited material selection (works best with cotton or mixed fibers with some cotton content, even though there are now systems specialized for synthetics entering the market. But so far there is no true "one for all" solution)
Common problems in Direct to Garment printing
Even though there can be quite a few possible causes for printing problems in direct to garment printing, it often boils down to three main culprits:
Design problems
Wash-fastness of the dtg print
Lack of know-how and training
We created a short video for our YouTube channel where we talk more about these problems:
Here is another video where we talk more specifically about five reasons for washability problems and what you can do about it.
Where Can I Learn DTG Printing?
The first point of contact is usually the supplier of your printer. They offer training on how to use their machine properly and how to handle all the fluids correctly. The same goes for the manufacturers of additional equipment like curing units or pretreatment machines.
When you get your print shop up and running, we can only recommend to not start printing commercially immediately but instead reserve a little bit of time for testing. During this time, you want to make sure to figure out the following:
Finetune all your processes so you receive a good product
Perform a washing test, so you know that your product does not only look good.
Dial-in your process control so you receive consistent output
We created a course that shows you exactly how to do these things. Visit  learn.dtgmerch.com for more information.
Designs for Direct to Garment Printing
"A bad design will always result in a bad print."
Direct to garment printing is a WYSIWYG (short for: What You See Is What You Get) printing method. This means, that everything you see in your design will print. Even artifacts from low resolution or white pixels (which will be printed with white ink).
The better your image is suited for Dtg printing, the better the final result will look.
Which software can you use to create T-Shirt designs for Direct to Garment?
In this short video, we talk about seven options to create T-Shirt designs, ranked from our least to our absolute favorite. We included options for beginners and pros alike. We talk about different software options you can use to create T-Shirt designs, for example, Canva, Affinity Photo, Krita, Gimp, Affinity Designer, Adobe Photoshop, Adobe Illustrator and Procreate, their pros and cons, and how we use them to create illustrations and designs for T-Shirts.
Our T-Shirt Design Process (Procreate)
In this video, we have a special guest, Maggi, who explains to us her design process to create TShirts in Procreate.
Where can you source T-Shirt designs for DTG printing?
You can find a designer who is specialized in creating designs for Dtg printing on many platforms like Fiverr or Upwork or community places like Mintees.
By the way, DTGMerch also offers a design service where we can turn your ideas in real images.