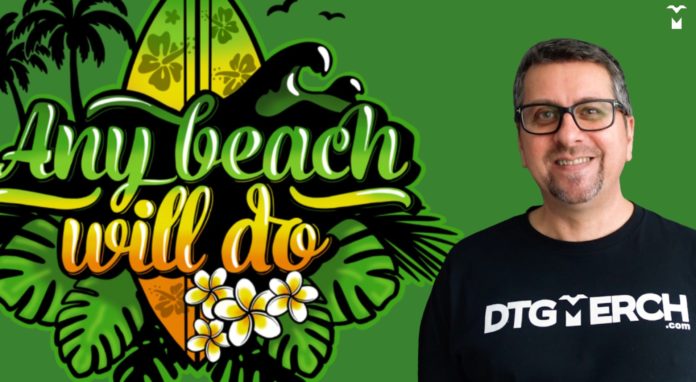 How to create designs for direct to garment printing
Direct-to-garment (DTG) printing is becoming increasingly popular. Therefore, whether you print your own t-shirts or use a print-on-demand service (like Merch by Amazon, Redbubble, Printful, or Spreadshirt), knowing some basics about setting up design files will help you create better products.
On our YouTube channel, we've published a series where we talk about what you need to do to create designs for DTG printing.
Episode 1 – Resolution in DTG printing
In the first part of the series, we'll talk about resolution and image size. How big do your t-shirt designs need to be? Should you create designs for dtg printing t-shirts in 72dpi? Or in 300ppi? Or in inches? How does it all relate to each other?
This information will help you avoid blurry prints.
Episode 2 – T-Shirt design in RGB or CMYK?
In part two, we'll will answer another question we get all the time: Do you need to create your design for dtg printing in RGB or CMYK? Which profile do you need to use for DTG printing? It's a common misconception that designs need to be created in RGB if you're going to use them on screen, and CMYK if you're going to print them. However, this is not the case with direct-to-garment printing.
Watch this video to get better colors and avoid extreme color changes.
Episode 3 – Design Elements
In this part, we're going to talk about image elements.  For instance, what can you actually include in your design that will look good when printed? And what details should you avoid? Moreover, are there any limitations and restrictions when you're creating graphics for direct-to-garment printing? How should you create designs for dtg printing, in a better way?
In conclusion, this video is for you if you want to know more about what types of designs you can use within your DTG print files.
Episode 4 – Color Correctness
Are you frustrated because your printed colors do not match your expectations and look totally different from what you saw on your screen? Unfortunately, color changes are common in direct-to-garment printing. In this little episode, we'll tell you a simple trick that can help you get better colors.
At the moment, the T-Shirts with the patches are available on Amazon:
Please let us know if you need any additional platforms.
Episode 5 – Finishing touches
In this episode, we reveal a few tips and tricks on how to put the finishing touches on your direct-to-garment printing designs.
Episode 6 – Correct Export
In this final episode, we talk about how to properly export your artwork for dtg printing. We also show you how to solve some common problems, like when Merch by Amazon tells you the png is invalid, or how to compress your files to reduce file size.