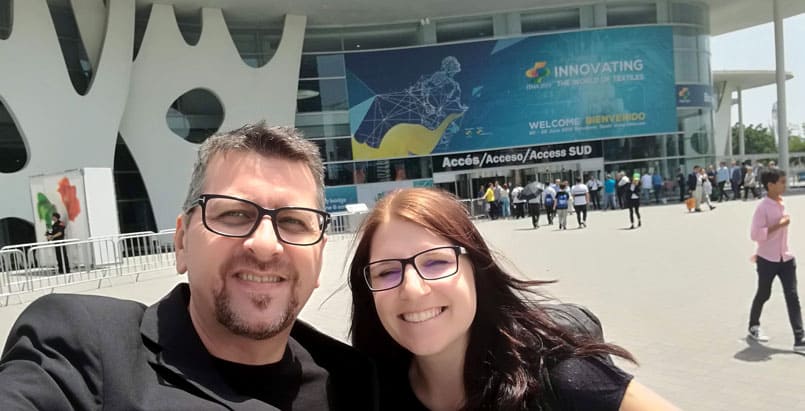 We went to Barcelona for two days to visit the ITMA (which did not leave us with not too much time to stroll around lovely Barcelona…).
Our first day at the trade show was quite calm. Hey, it was Sunday!
Actually, it proved to be quite a very fruitful experience. We were able not only to visit all the booths on our list but also got to spend some quality time with old friends and reconnect with many awesome people.
Many of the big brands were there, obviously, and we were able to check some of the novelties in terms of machinery not only from DTG but also from screen printing, software, and also some innovation from ink suppliers.
The ITMA 2019 had lots of exciting DTG printing novelties
One of our highlights in terms of machinery was seeing the new Polypro from Kornit. Looks like direct to garment printing is finally starting to go in the right direction when it comes to water-repellant materials.
And Maggi has a very weak spot for the LaRio printer. Seeing this beast running is always a very humbling experience.
Lots of DTG manufacturers are adding new inks and softwares to make our lives easier. But – honestly – we were a little bit disappointed that still nobody seems to care too much about color management and color correctness.
It was a pleasure to meet everyone at the ITMA!
Sunday was obviously the calm before the storm. On Monday the ITMA was PACKED with people. When we arrived in the morning, there was already a huuuuuge line in front of the venue.
The good thing was that already got to see all the booths we wanted the day before – it was much easier since it was less crowded. On Monday we just had a handful of meetings before we had to catch our plane back home in the evening.
So… how did we like the ITMA 2019?
In our opinion, ITMA can be a great opportunity to do business, check innovations in terms of machinery and have a glance at the ENTIRE textile and printing industry.
Also, meeting colleagues and friends from other companies made the visit feel less like work and more pleasurable.
The ITMA Barcelona was quite well organized, the halls very well-marked with clear instructions everywhere. It was quite easy to find your way in there.
The only minor downside perhaps was the reception/entrance area. We had to pick up our badges in the morning and it was very chaotic. We were asked to stand in different lines several times. Too many people giving to many orders at once. However, all the attendants were correct and polite at all times.
But, after all, we really enjoyed our visit and we will for sure be back the ITMA 2023!