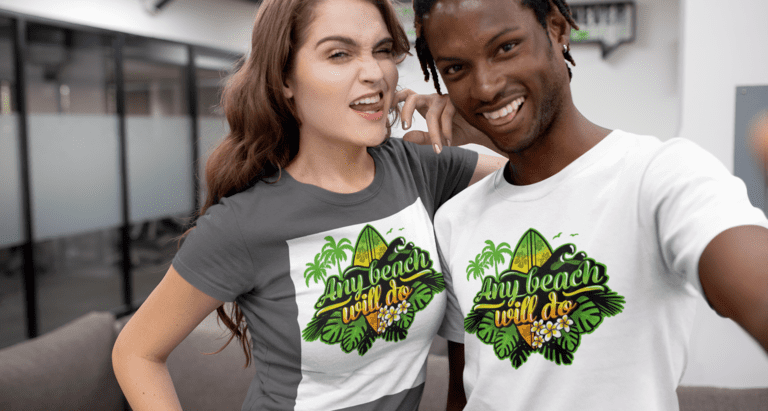 Yep, I guess we've all been there, and done that. 😉 In fact, this is one of the most common mistakes for beginners, in dtg printing: Forgetting to remove the white background…
With dtg printing, what you see is always what you get.
As long as you print on white T-Shirts, the design is printed in CMYK only. This means, that the white parts of the image are automatically "ignored".
The problem starts when you want to print on colored or black garments.
We have simulated a few samples to illustrate this:
T-shirt with white background
Looks good, the white background is not visible on a white T-Shirt. The white T-Shirts, most of the time,  are printed with colors (CMYK inks) only and all white parts are automatically removed by the RIP Software.
Colored and black T-Shirt:
What you see is what you get is really the case here. The garments in darker colors are printed with white ink. Therefore, the white square of the background is visible on the white garments (and it costs you a lot more money!).
T-Shirt design with transparent background
Colored and black T-Shirts:
The background is transparent and therefore the prints look awesome! 🙂
Html code here! Replace this with any non empty text and that's it.
Which file formats should you use for dtg printing?
Well, as long as you print on white garments only, literally any file format your printer or RIP software can handle is ok.
When you want to remove the background, you need a file format that can handle transparencies or a vector format. For example png, psd, ai, eps, tiff, etc.
Hint: Please note that jpeg does not allow for transparencies. If you have a design with a transparent background and you save it as a jpeg, all the "empty" parts are filled with white automatically.
How to achieve a good T-Shirt print
Always design for the media you are printing on and especially keep the garment color in mind!
Can be quite complex to remove the white background from some designs (especially with hair or lots of small details).
If you need a design to print on colored and dark garments, it may be better to build a design from scratch or look for stock images that already have transparent backgrounds.