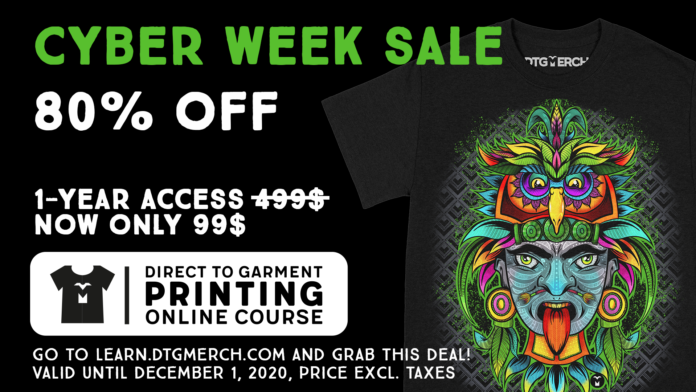 Don't miss this chance to join our DTG Printing online course at a fantastic price! Our first and biggest sale of the year is happening right now.
Grab your 1-year access to our DTG Printing Fundamentals online course for only $99* (instead of $499*). That's 80% off!
Full of valuable advice, specific examples, and helpful tests, this online course is packed with information that can help you create your successful direct to garment printing business. We talk about each step of the printing process and how you can optimize your production as well as avoid printing problems. We also have a look at other important topics like T-Shirt designs for DTG printing, how direct to garment compares to other printing methods, and other business-related topics like automation and optimization.
And if you have any course-related questions, we are always there to help!
By the way, if you are just starting your journey to print t-shirts with direct to garment, then check out our free ebook "The Beginners Guide to DTG printing".
This offer is valid until December 1, 2020.
Need more information? Or do you want to enroll in our DTG Printing online training at this fantastic price? Then head over to learn.dtgmerch.com
We're looking forward to having you as our student!
Best regards,
Everson and the DTGMerch team
* Price excluding taxes