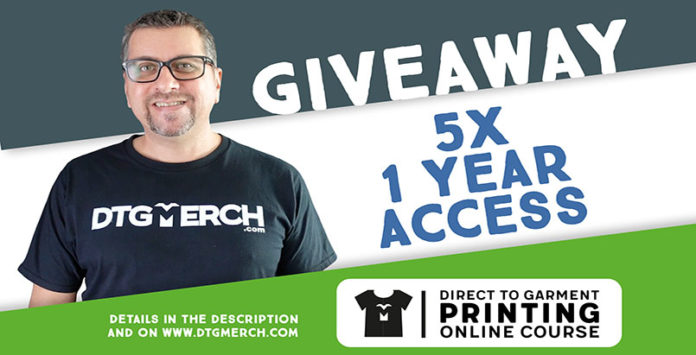 Update November 25, 2020: The five lucky winners have been picked and have been notified via Email.
If you did not receive an winning notification this time, please stick around. We will try to regularly give away nice gifts for our newsletter subscribers in the future.
Win one of five 1-year accesses to our online course!
Because we are very excited that our little community is growing, and we appreciate each and every one of you for your support, we decided to give something back. 
Therefore, we are hosting a giveaway on our DTG Online Course! We will grant 1-year access to our DTG Online Course to five lucky subscribers of our newsletter. Thus, if you are not yet part of the DTGMerch family, now you have one more reason to do so. One of the five DTG Online Course from this Giveaway Week special offer can be yours! How's that for motivation???
HOW TO ENTER:
Subscribe to our newsletter to enter the giveaway (and yes, you will also receive a free copy of our ebook "The Beginner's Guide to DTG Printing".
However, if you are already subscribed to our newsletter, there is nothing else you need to do. You will automatically enter the giveaway.
THE RULES:
Must be 18 years or older to enter. The giveaway is open worldwide and will be closed at 11:59 pm (UTC+1) on November 24, 2020. The five lucky winners will be chosen at random from all newsletter subscribers that are active subscribers on November 25, 2020, and notified via email on November 25, 2020.
To redeem their 1-year access, the winners need to reply to their winning notification within 30 days after receiving their notification. Otherwise, their win is going to expire.
This giveaway is in no way endorsed or sponsored by Instagram/Facebook/Youtube/Linkedin/Mailchimp.
The judges' decision is final. Cash redemption is not possible. The prize is not transferable to third parties. Only one entry per person.
Good luck!